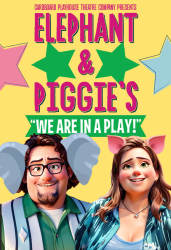 Cardboard Playhouse Theatre Company Presents
Elephant & Piggie's We are in a Play!
Time: 2:00pm Day: Sunday Doors: 1:30pm Ages: All Ages Price: $12
This Event Has Ended
In this vaudevillian romp, Elephant and Piggie sing and dance their way through plenty of pachydermal peril and swiney suspense.
Get ready for a musical experience, ripped from the pages of Mo Willems' beloved, award-winning, best-selling children's books, that will leave audiences doing the "Flippy Floppy Floory" dance all night long! In Elephant & Piggie's "We Are in a Play!", Gerald and Piggie take to the stage in a rollicking adventure that is perfect for young audiences.
An elephant named Gerald and a pig named Piggie are best, best, "bestus" (a word Gerald and Piggie made up that means "very best") friends, but Gerald worries that something could go wrong that would end their friendship. Piggie is not worried at all. She's even happier and more excited than usual. That's because she and Gerald are invited to a party hosted by the Squirrelles, three singing squirrels who love to have a good time. And so begins a day when anything is possible.
Filled with beloved characters and lively songs, Elephant & Piggie's "We Are in a Play!" is a perfect way to introduce young people to theatre.
Featuring Doug Montoya and Kristin K. Berg, co-artistic directors of Cardboard Playhouse Theatre Company