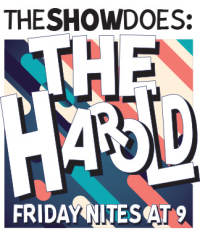 The Box Performance Space & Improv Theatre
The Show Does:
The Harold
Time: 9:00pm Day: Friday Doors: 8:30pm Ages: All Ages Price: $10 - $12

The cast of The Show breaks out of it's short form improv restraints to bring you classic comedic longform improv structures. The Harold is a structure used in longform improvisational theatre that is performed by improv troupes and teams across the world. In the Harold structure, characters and themes are introduced and then recur in a series of connected scenes.